Comparison reviews
Anker's 12-in-1 Thunderbolt 4 docking station: modern connectors meet old ports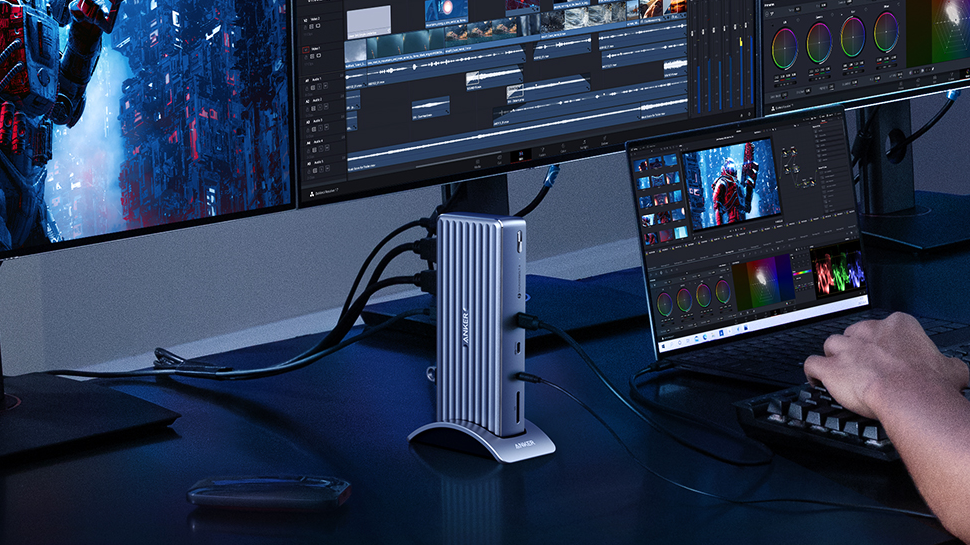 Anker has quietly started selling its rather unique 12-in-1 Thunderbolt 4 dock with modern and outdated ports and a simple 5-in-1 TB4 mini dock, suitable for more USB-C connectors and up to 100W Power transmission.
Thunderbolt 4 has been out for about a year, but so far not many TB4 docking stations have been announced. Thunderbolt 3 and Thunderbolt 4 are very similar, which makes users reluctant to upgrade. Another reason is the continuous shortage of chips, which makes it difficult for developers to design new products and ensure a stable supply. For Thunderbolt 4, it becomes more difficult because Intel has very strict requirements on the function of the interface. Therefore, there are not many TB4 docking stations to choose from. Therefore, it may surprise some people to see that Anker launches not one but two Thunderbolt 4 compatible products.
Anker Apex Thunderbolt 4 docking station
Anker's Apex Thunderbolt 4 docking station Its host PC has Thunderbolt 4 input, which can provide up to 90W of power, enough to power high-performance laptops, such as Apple's MacBook Pro.
The device has three connectors for displays: one Thunderbolt 4 port can drive two 4K60 displays (or one 4K120 LCD) or one 8K30 display (5K/6K60 displays on Apple Mac) and two can connect to 4K60 HDMI 2.0 port. The TB4 output port can naturally connect to any TB3/TB4 peripherals, such as high-end storage subsystems. It can also provide up to 15W of power, which is sufficient for bus-powered SSD or HDD.
In addition, the docking station has a Gigabit Ethernet port; a USB 3.2 Gen 2 Type-C connector with 20W power output; two USB 3.2 Gen 2 Type-A ports; a 3.5 mm TRRS audio jack for headphones ; And the SD UHS-II 4.0 slot (up to 300MB/s) and two USB 2.0 Type-A connectors for the card, which can now be regarded as traditional ports. The dock uses an external 120W power supply, so it can power a laptop while charging a smartphone or tablet using its TB4 or USB-C connector. In order to make the device more comfortable to use in the vertical direction, Anker will provide it with a special stand.
The Apex Thunderbolt 4 docking station can now be purchased directly from the company and its resellers for $299.99.
PowerExpand 5-in-1 Thunderbolt 4 Mini Docking Station
For those customers who do not need GbE or USB-A connectors and SD card slots, Anker has its own PowerExpand 5-in-1 Thunderbolt 4 Mini Docking Station, It looks more like a Thunderbolt 4 hub. This device allows multiple TB/USB-C devices to be connected to a TB4 port on the PC.
The device has a Thunderbolt 4 upstream power supply that can provide up to 85W of power to its host PC, and three Thunderbolt 4 downstream ports are used to connect Thunderbolt or USB-C devices and/or displays (two 4K60 LCDs, or one 4K120, or A 5K /6K/8K60 display) and a USB 3.1 Gen 2 Type-A connector. One thing to note is that Apple's M1 SoC has only two display pipelines, so M1-based devices cannot support more than two displays.
Although the functionality of the PowerExpand 5-in-1 Thunderbolt 4 Mini Dock looks ordinary, the internal structure of the Thunderbolt 4 hub is quite complicated and expensive, so its price is still US$199.99.