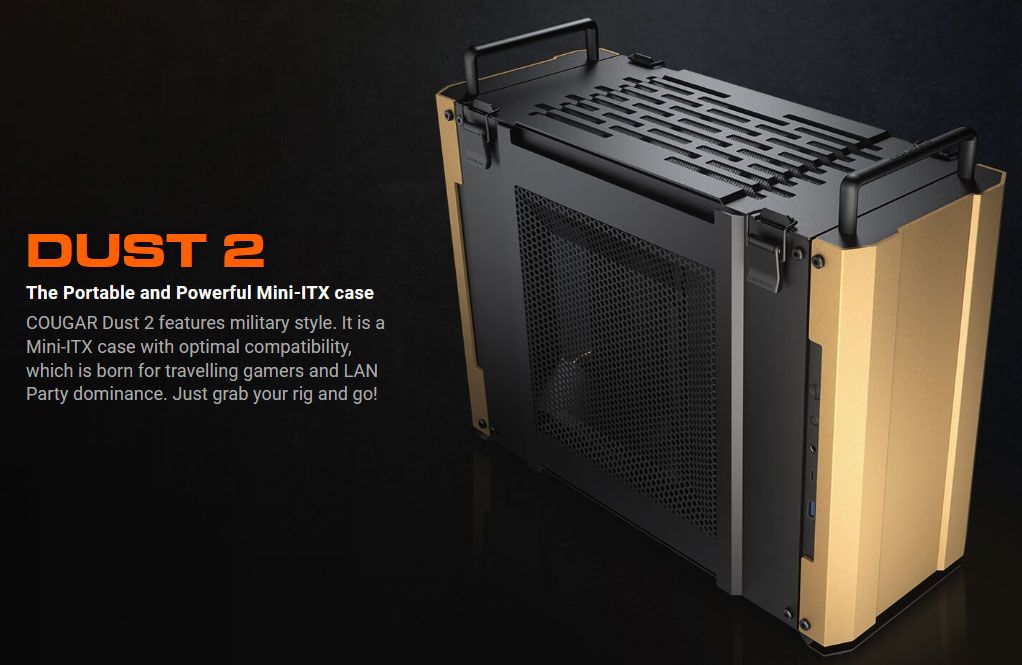 Cougar launched Dust 2 Mini-ITX housing, Its design has a militaristic aesthetic, and special consideration is given to its portability and dust filtering capabilities (Cougar does highlight the second part of the case name). Dust 2 has three colors: desert sand, iron gray, and space silver, changing the appearance of the front and rear aluminum panels. The side panel has a quick release device, and there is a pair of handles on the top of the shell, which is convenient to carry to the next LAN party.
Image 1 of 3
Image 2 of 3
Image 3 of 3
Dust 2 is a 175 mm x 299 mm x 403 mm (6.9 x 11.8 x 15.9 inches) chassis and does not include a handle, making it a compact thing. It does seem to be very professionally designed-the graphics card is actually separated from the motherboard by a transfer cable (a PCIe 3.0 x16 cable is included in the chassis) and is located behind it instead of in front of it. This design choice serves the rest of the Dust 2 organization. It has enough space to place a 280 mm radiator on the top of the chassis, or several 140 mm fans as exhaust output. Three independent compartments between PSU, CPU and GPU help to alleviate the temperature problems that may occur in such enclosed spaces, especially considering how to install PSUs up to 160 mm and up to 330 mm long and 60 mm high GPU.
Image 1 of 3
Image 2 of 3
Image 3 of 3
Elsewhere in the case, we found a space for a pair of 2.5-inch drive bays and a 1x 3.5-inch bay (it will hinder the installation of a heat sink on the top of the case when used, so please pay attention to this option). For I/ O, in addition to everything already provided by your chosen Mini-ITX motherboard, you can also find a power button, a reset button, a 3.5mm front panel jack, a USB 3.1 Type-C port and a USB 3.0 Type -A port.
Cougar has not announced its pricing, but some Chinese retailers have listed Cougar Dust 2 at a price of US$165 (€135).