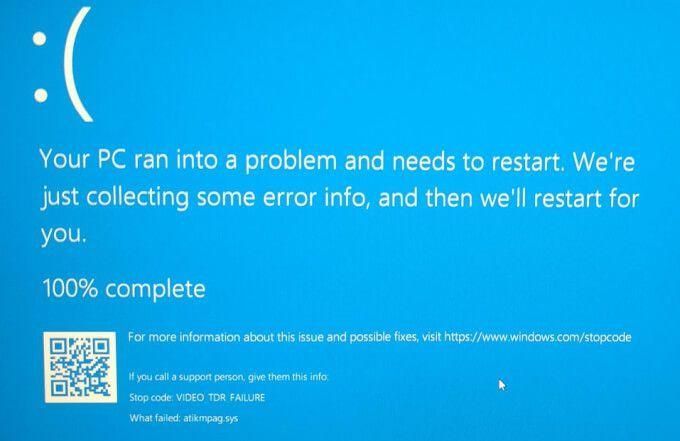 Two windows Blue screen of death, VIDEO_TDR_FAILURE BSOD and VIDEO_TDR_TIMEOUT_DETECTED are related to video timeout detection and recovery (TDR).Both are triggered when triggered, as MS Doc files VIDEO_TDR_TIMEOUT_DETECTED Say "…the display driver failed to respond in time."
In short, when graphics issues cause a Windows PC to freeze or hang, and the user tries to restart by pressing the power button, these blue screens of death may occur. As the VIDEO part of the stop code string shows, these blue screens are almost always caused by a problem with one or another display device driver.
What causes the video TDR blue screen?
These blue screens of death may occur when the GPU (discrete graphics card or graphics processor integrated into the CPU) is busy processing intensive graphics options. They most often occur during games or when other graphically heavy applications (such as CAD or 3D rendering tools) are running.
The detection and recovery process is officially called timeout detection and recovery, or TDR for short. The default timeout value is 2 seconds. If it times out, the TDR process of the video card and integrated graphics processor (such as Intel's Iris Xe or numbered UHD model) uses the operating system-based GPU scheduler to call the display port minidriver command DxgkDdiResetFromTimeout function. In turn, this function will reinitialize the device driver and reset the GPU. The stop code of VIDEO_TDR_TIMEOUT_DETECTED indicates that the driver is reinitialized and the GPU reset is successful. A stop code of VIDEO_TDR_FAILURE indicates that one or both of these operations failed. In fact, if five or more TDR events occur within 60 seconds or less, the latter stop code may also appear.
How to fix video TDR blue screen
The most common cause of TDR issues is video driver issues. In many cases, updating your display driver to the latest version will properly support the TDR process. This will briefly end the related BSOD.
Therefore, I recommend that you first try to install the video driver on the affected system. For older video devices (2014 or earlier), it may be wise to research the driver online. why? Because for older video devices, rolling back the driver to a specific, known, good, and working version is usually the correct solution.
If a driver replacement or update does not help, it is usually a hardware-related issue. Two Microsoft documentation files for TDR stop codes specifically mention the following hardware issues "will affect the normal operation of the video card:"
"Overclocking components, such as motherboards." Obviously, GPU overclocking tools such as MSI Afterburner Also counted here. Restore all overclocking settings to the manufacturer's default settings and see if it helps. If so, and you decide to overclock, you can advance and test the overclocking settings in small increments until things start to fail again, and then go back one level.
"Incorrect component compatibility and settings (especially memory configuration and timing)" It is actually a subset of the previous item. If you are using non-standard or accelerated (such as XPG) memory settings and timings, please also restore them to the factory default settings of the memory module manufacturer.
"Insufficient system cooling" This usually happens when strong graphics or CPU activity drives the device outside the recommended operating temperature range. This means you must check to make sure that the fan is working properly, remove accumulated dust, make sure that the chassis vents are not blocked, and so on.Sometimes, walking with one of them The best CPU cooler (Switching from a forced air cooler to a liquid cooler with more and larger fans) may help. I use the excellent Core Temp utility to continuously monitor the temperature on the system; there are many other good temperature monitoring tools and utilities available. Use them!
"Insufficient system power" It may indicate that the power supply unit (PSU) has failed or the power output cannot meet the needs of the system under peak load (for example, when playing games or running graphics-intensive applications). If you have recently added one or more new, higher-power GPUs and haven't upgraded your PSU, this may be the culprit.Power calculators, such as those discussed in this article techy's forum topic Can help you determine whether your PSU has enough capacity to provide services to your system components (I usually add 100 to the calculator results to ensure that there is enough available power).
"Defective components (memory modules, motherboards, etc.)" Obviously, graphics devices are also included, because the problem lies in the system components that enable graphics output on the PC, including memory, motherboard, CPU, GPU, cables, and monitors. This requires old-fashioned equipment troubleshooting. I suggest starting from the monitor to the system chassis, first from the video cable, then the monitor, then the GPU, and then start worrying about CPU or motherboard failure. The last two may start to throw other BSODs and will help you discover potential problems larger than the graphics.
Need more information? Try WinDbg.exe
use WinDbg debugger Get more information about stop codes. This usually helps to find the root cause.I prefer to use NirSoft BlueScreenView I use the tool myself because it usually points directly to the faulty module (for TDR errors, it is usually the graphics driver, such as Nvidia nvloddmkm.sys or something similar). However, the debugger can take you to a level of detail beyond systems with multiple graphics cards or complex video output chains.