Comparison reviews
Intel's second quarter of 2021: PCs grow by 33%, servers continue to decline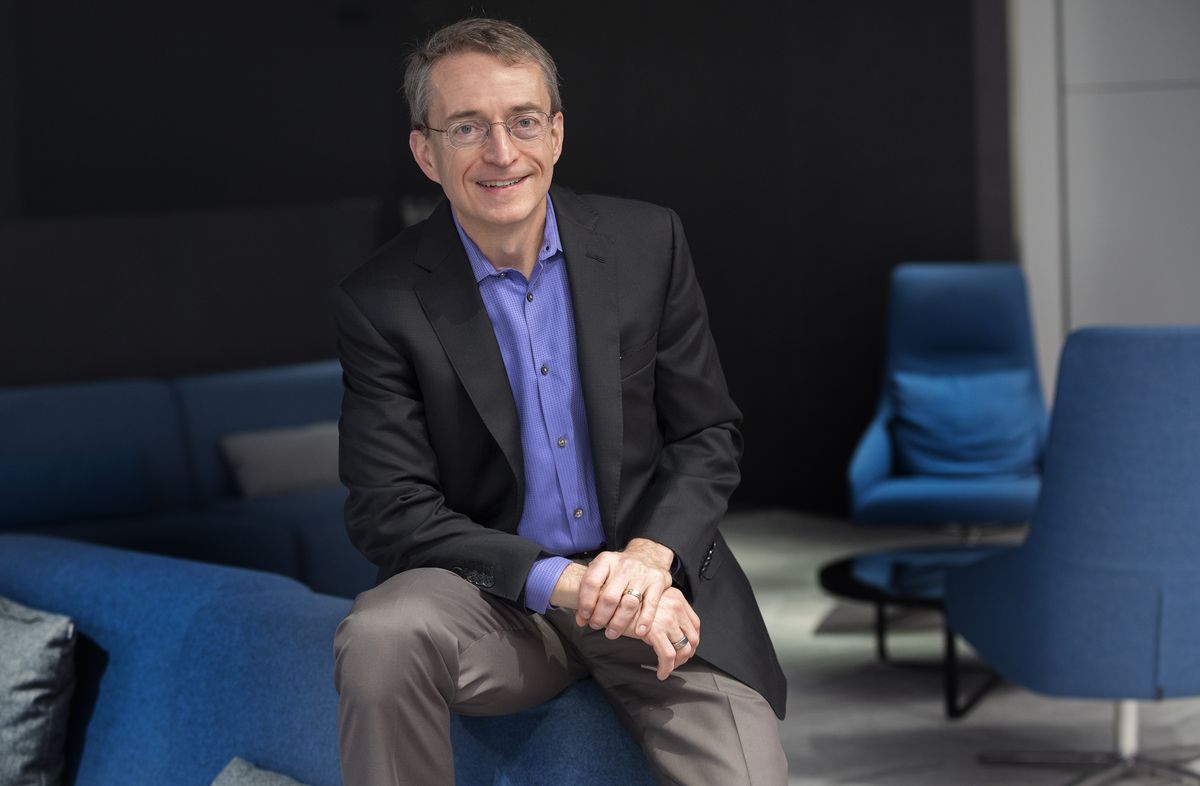 Intel today released its earnings report for the second quarter of 2021, exceeding expectations for the tenth consecutive quarter, with revenue of $19.6 billion. Intel reported that its PC sales increased by 33% year-on-year, including growth in laptops and desktops. However, Intel's server division continued to report weak performance, and the company lowered its gross profit forecast.Intel CEO Pat Gelsinger also declined to comment on recent concerns that the company is working with Buy GlobalFoundries 30 billion U.S. dollars.
Intel said it will ship millions of Alder Lake chips to partners in the second half of this year, and has already shipped 50 million Tiger Lake chips to the market. However, the company also warned that the shortage of chips for desktop computers in the third quarter will be "particularly severe." However, Intel remains bullish in these challenges because it has raised its full-year outlook by US$1 billion to US$73.5B.
Intel's desktop sales increased by 15% throughout the year, while notebook sales increased by 40% year-on-year, which is incredible. However, these gains are at the cost of price reductions, as the average selling price (ASP) of Intel desktops and notebooks has fallen by 5% and 17%, respectively, indicating that Intel is lowering pricing to remain competitive with AMD.
Intel said it set a record for personal computer revenue in the quarter and gained more personal computer market share. Intel's ability to achieve good continuous growth in chip sales is not entirely surprising, as it has maintained strong supply levels during chip shortages. In contrast, AMD suffers from extreme shortages.
However, Intel said there will be a "particularly severe" shortage of its client chips in the third quarter. In addition, increasing supply chain costs are eroding its profit margins, mainly because it has not passed these increased costs on to customers. Gelsinger said that he expects this year's broader industry chip shortage will "bottom out", but it will take a year or more for the market to fully stabilize.
Intel also announced that the number of 10-nanometer wafers it now produces exceeds 14 nanometers, and the manufacturing cost of 10 nanometers has been reduced by 45% year-on-year.
1 of 12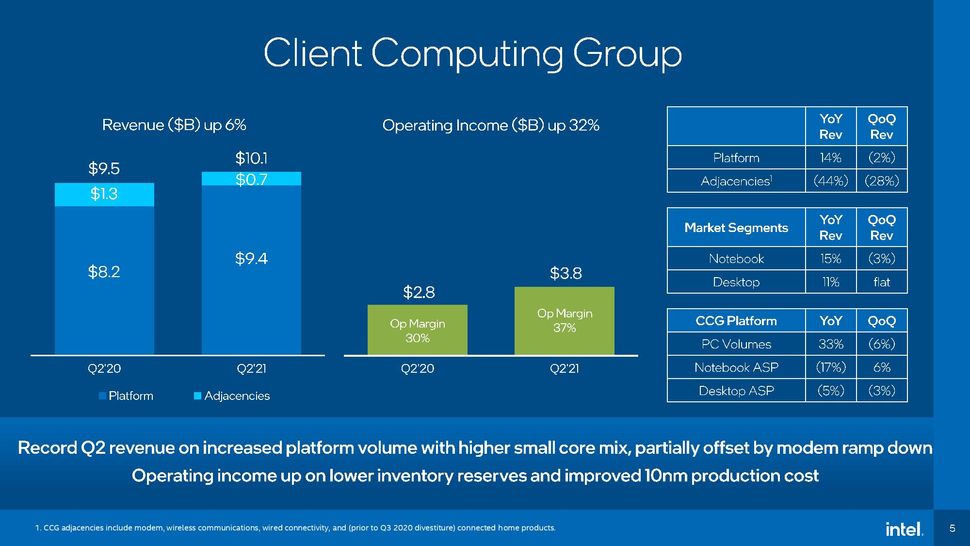 Image 2 of 12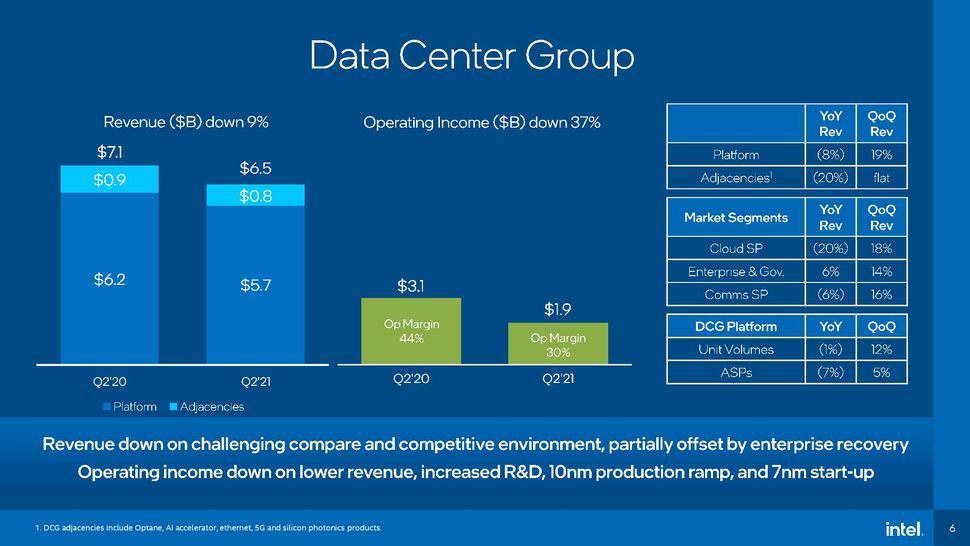 3 of 12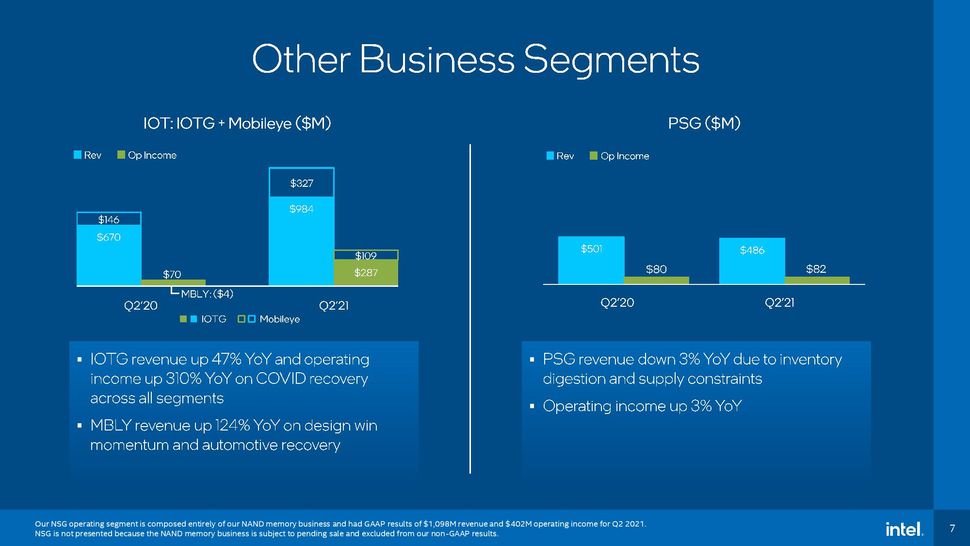 Image 4 of 12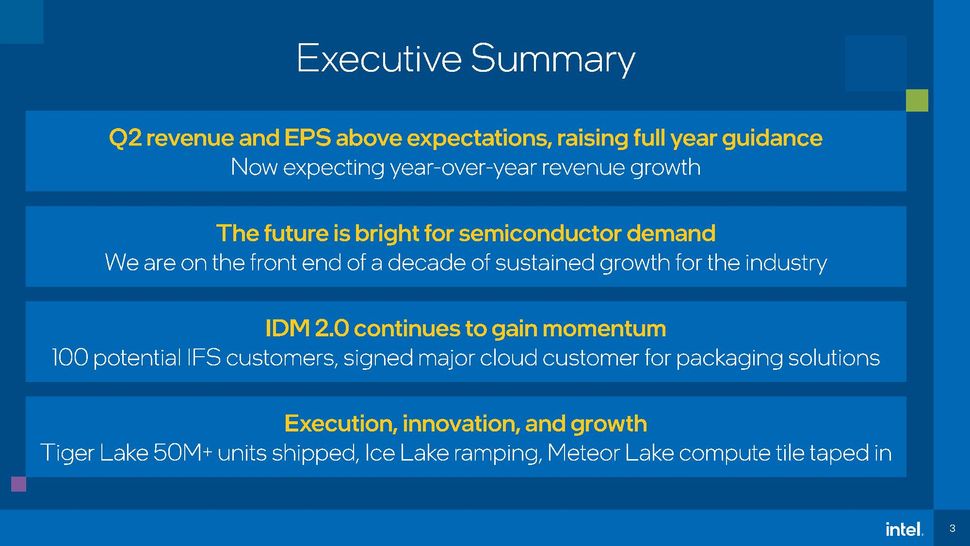 5 of 12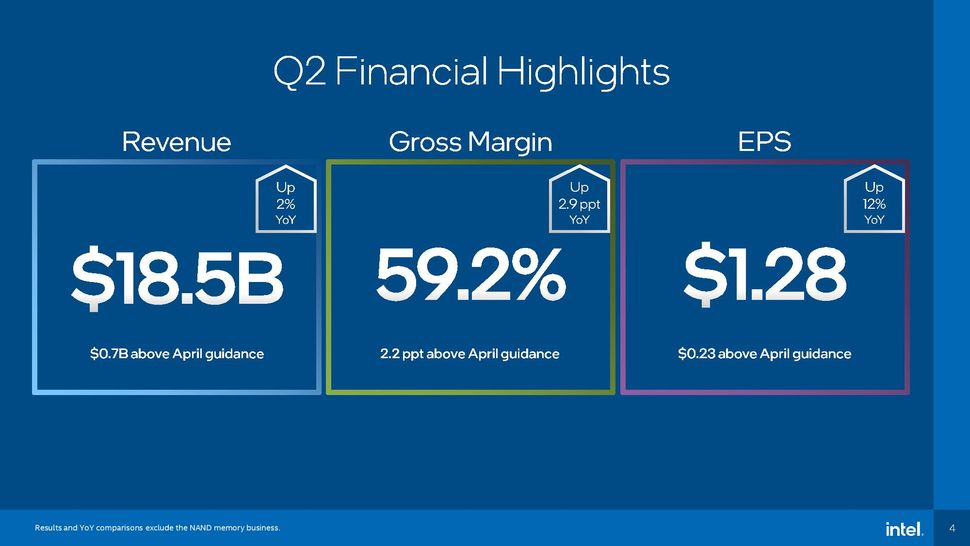 Image 6 of 12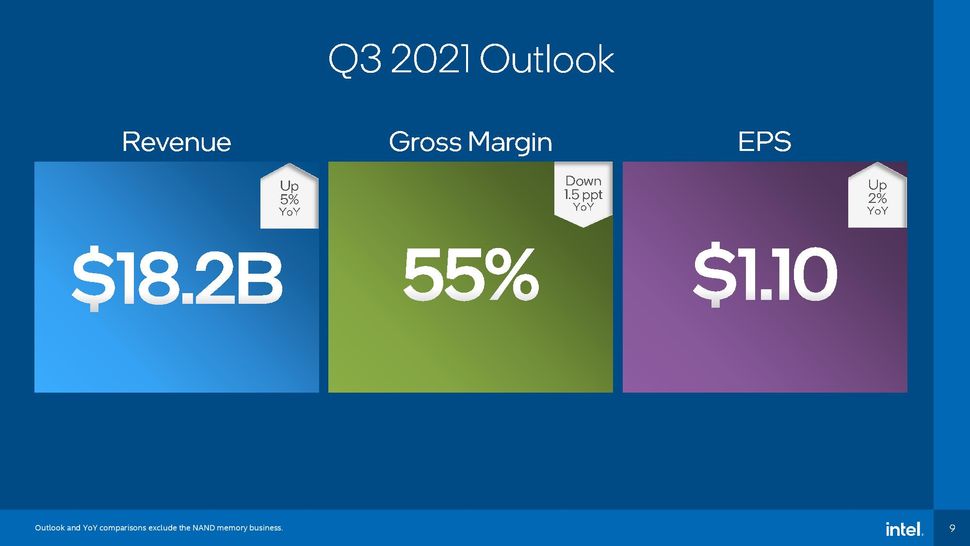 7 of 12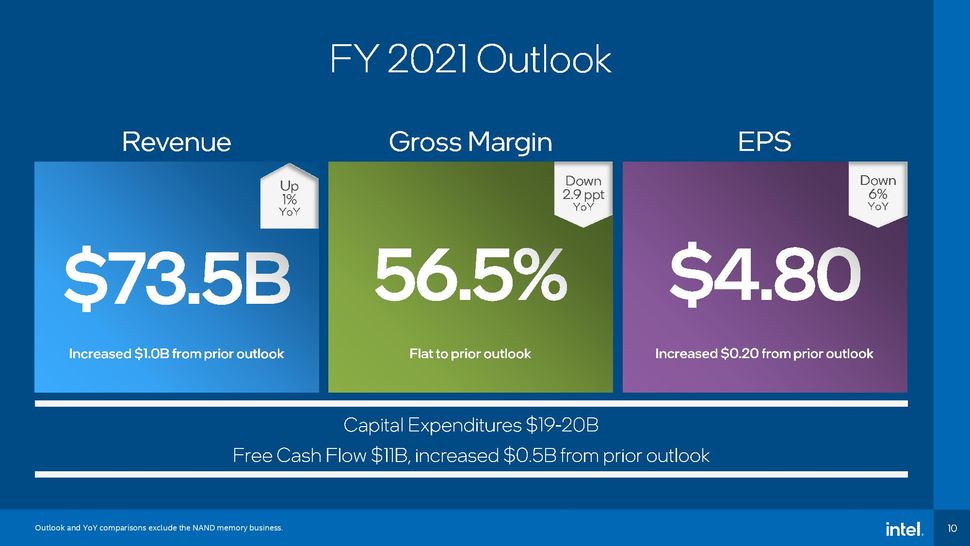 8 of 12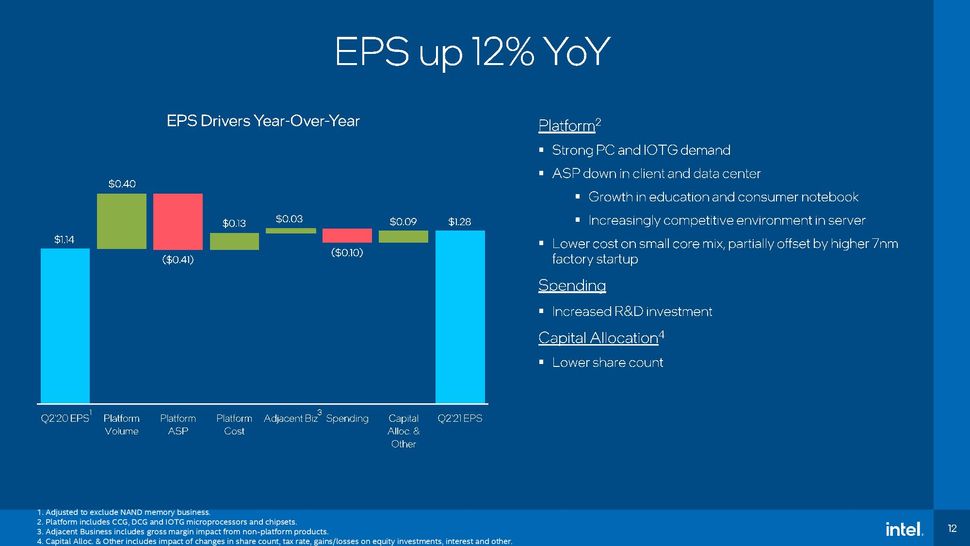 9 of 12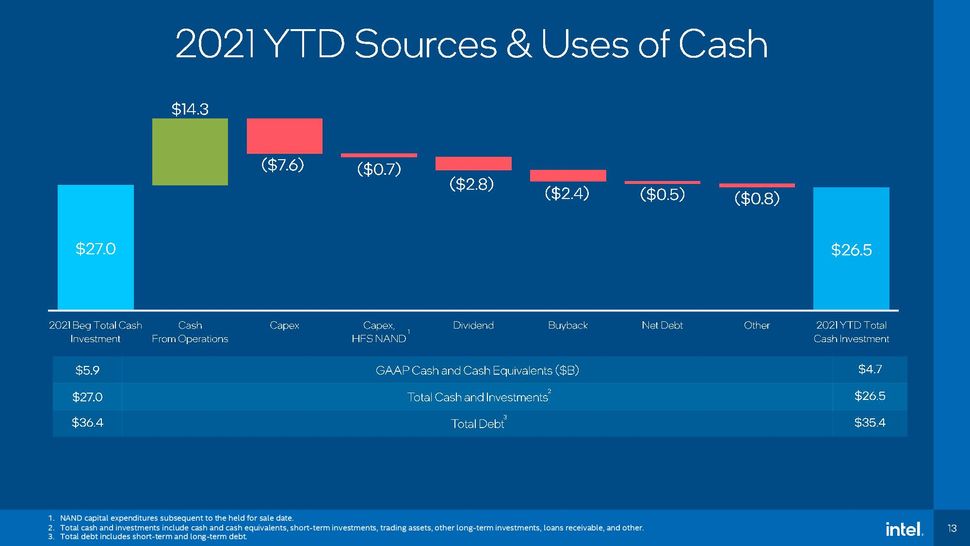 Image 10 of 12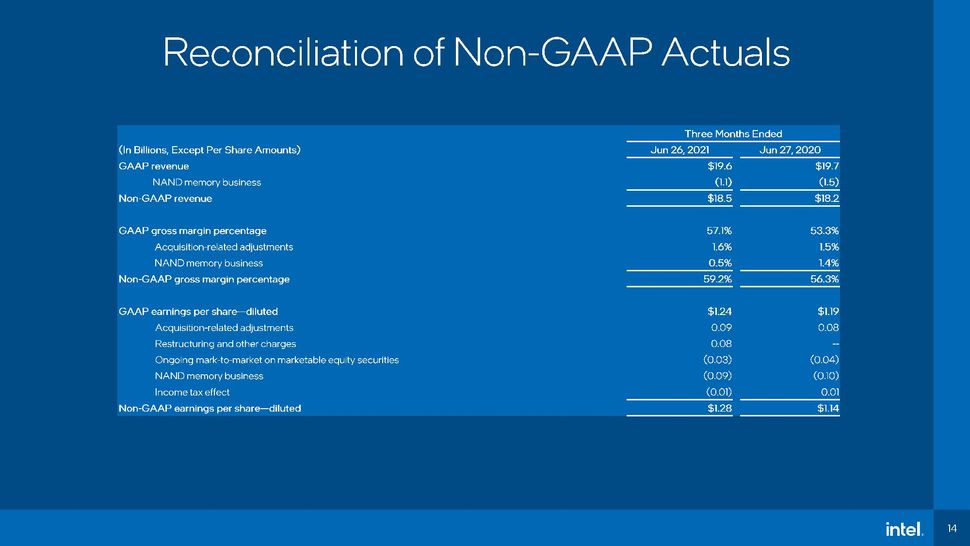 Image 11 of 12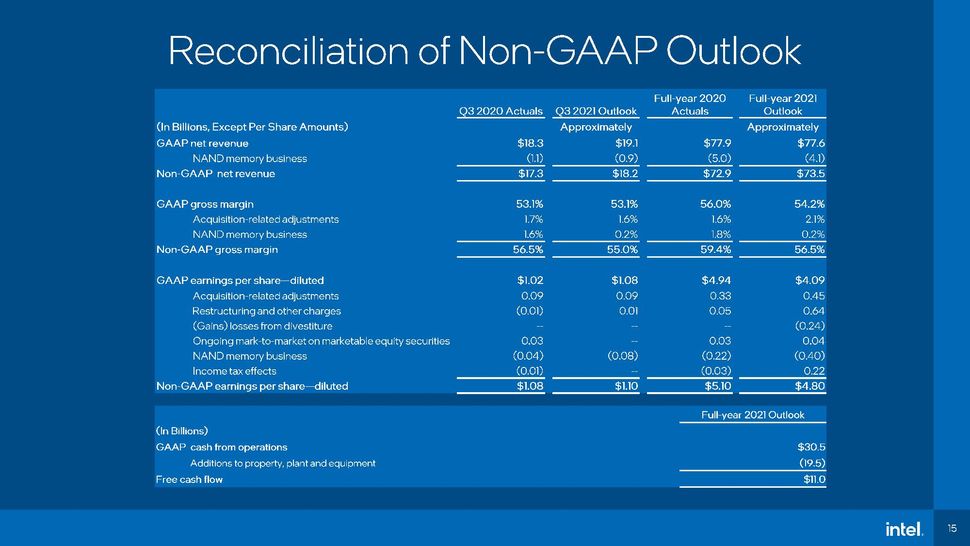 Image 12 of 12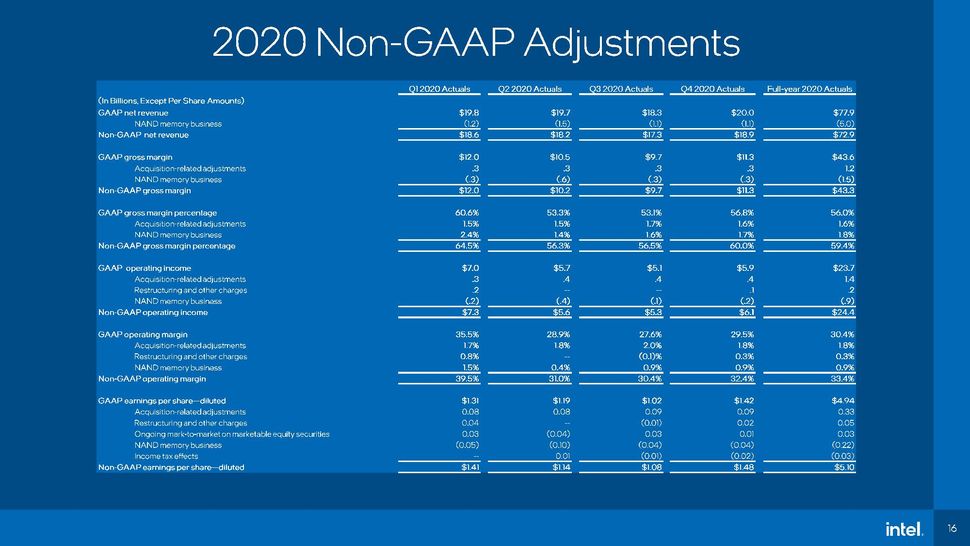 Intel's Data Center Group (DCG) achieved $6.5 billion in revenue during the quarter, a decrease of 9% from the same period last year.Intel said it is challenging compared to the previous year, and the economic downturn is more competitive. This is an endorsement of continuing to erode AMD's powerful EPYC processors market share. Intel's sales decline in the server field appeared after the previous quarter Revenue is down 20% year-on-year.
Intel's new CEO Pat Gelsinger continues Restructuring the company When he replaces and Reinvigorate key leadership roles And began to develop the company's IDM 2.0 initiative, Which will find that the company makes chips for other companies through the new Intel Foundry Service (IFS). Gelsinger announced that Intel recently signed the first cloud customer for its IFS chip packaging service and has 100 potential customers for its planned chip manufacturing service.
Intel will showcase its process and packaging technology roadmap and updates during the exhibition Intel Accelerated Webcast July 26 at 2 pm Pacific time. The event will be streamed through the Intel newsroom, and we will also conduct our own report on the event and provide additional analysis.