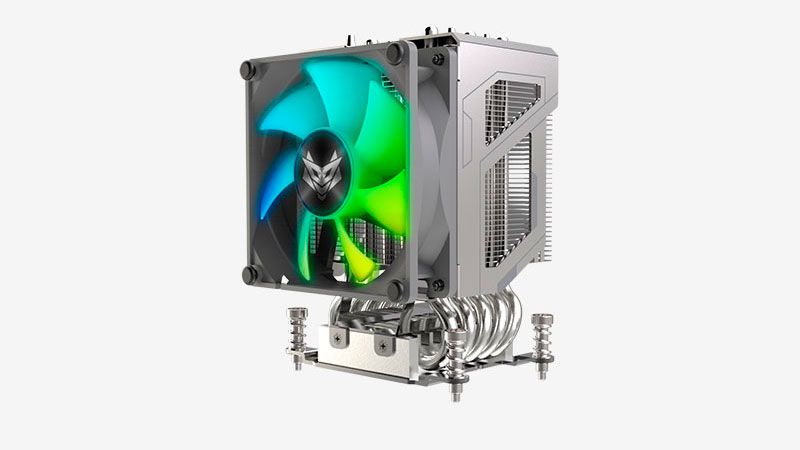 Sapphire (by momomo_us) Launched the brand's Nitro LTC compact CPU cooler. Because it is listed in Sapphire's Chinese websiteIt remains to be seen whether the CPU cooler will be available globally.
Nitro LTC uses a single-tower design with an area of ​​92.5 x 105 x 134 mm, including a cooling fan. Considering its size, the CPU cooler can be comfortably installed in a 3U chassis. The 680g Nitro LTC is equipped with five nickel-plated heat pipes to transfer heat from the AMD processor to the dense heat sink.
Nitro LTC is specifically designed for AMD's AM4 processor. Sapphire rates the CPU cooler with a cooling capacity of up to 100W.Therefore, higher 105W Ryzen chips, such as Ryzen 7 5800X And the above may be impossible.In fact, Sapphire refers to the 65W model, such as Ryzen 5 5600X, Ryzen 5 3600X and Ryzen 7 3700X As an example of supported processors.
Image 1 of 4
Image 2 of 4
Image 3 of 4
Image 4 of 4
Sapphire equipped Nitro LC with a 92mm cooling fan with ARGB lighting function. The fan is based on a dual bearing design, so it should have good durability. Its speed varies between 450 RPM and 4,500 RPM, using PWM control.
Although the product page is online, some information about Nitro LTC is still scarce. The CPU cooler seems to use a mounting system, which you will usually find on products targeting Intel Xeon chips. Our guess is that you may need to remove the AM4 bracket to screw the Nitro LTC onto the motherboard. The CPU cooler comes with pre-applied thermal paste, although Sapphire does not specify a brand.
The availability and pricing of Sapphire's Nitro LTC CPU cooler are currently unknown.